Sprawdź jak działa
PlugStore i rozpocznij
nowy projekt
Lubimy szybkie, łatwe rozwiązania, chcemy ułatwiać trudne i długtorwałe zadania. Dlatego stworzyliśmy PlugStore, aby zakładanie sklepu online było wygodne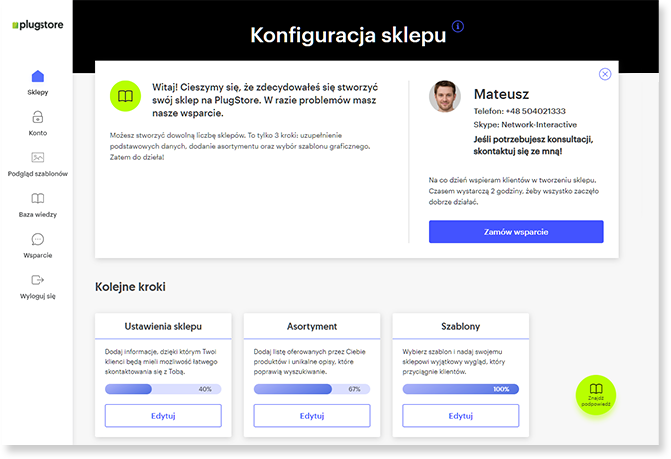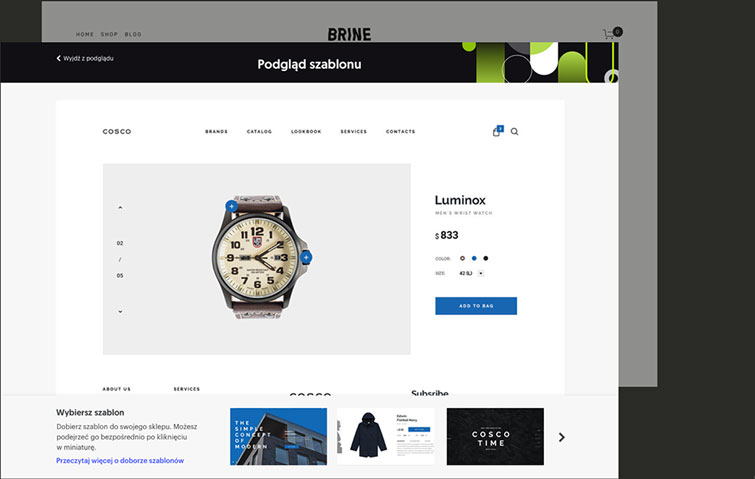 2. Zdefiniuj kategorie i cechy produktów oraz dodaj produkty
Odpowiednie zdefiniowanie tej sekcji sprawi, że w twoim sklepie nie będzie problemów z filtrowaniem produktów.
Możesz uzupełnić produkty ręcznie lub w przypadku większego sklepu, możesz załadować wcześniej przygotowane pliki z listą produktów
3. Wybierz szablon i pobierz sklep
Wybierz jeden z szablonów graficznych dostępnych w aplikacji. Do wyboru masz szablony z menu poziomym i pionowym – zobacz wcześniej demo każdego z nich.
Po utworzeniu sklepu w zależności od potrzeb masz możliwość:
1. Pobrania i samodzielnego wdrożenia sklepu.
2. Skorzystania z profesjonalnego wsparcia.
W trakcie całego procesu gwarantujemy wsparcie naszych doświadczonych konsultantów.

Wsparcie konsultantów
Na każdym etapie Twojej pracy nad sklepem czuwają nasi konsultaci.
Zdecyduj ilu konsultacji potrzebujesz i określ czas ich trwania
Pakiet 1
Wystarczy, by rozwiązać niewielkie problemy lub sprawdzić listę kilku/kilkunastu produktów.
2 godziny wsparcia.
Konsultacje.
260 zł
Pakiet 2
Wystarczy, by rozwiązać większy problem lub dopracować wygląd sklepu.
10 godzin kompleksowego wsparcia.
Przykładowo: wytłumaczenie cech, pomoc w imporcie, przygotowanie grafiki.
1300 zł
PAKIET 3
Zapewniamy Ci tyle godzin wsparcia, ile potrzebujesz.
To ty decydujesz ile potrzebujesz godzin na indywidualne wsparcie.
Koszt 1 godziny to 130 zł.
130 zł / h